Guitarwacky Custom Relic Finishes ages-the finest affordable American Fender Relic Stratocasters and Telecasters on the market-typically under $1500.
Don't forget to checkout our affordable relics in our reverb Store.
2019 Fender American Performer Custom Relic Purple/Lavender Sparkle. This stunning nitrocellulose lacquer finish was professionally and artfully aged by hand. This is not an assembly line produced finish. Guitarwacky's proprietary finish is top quality and was developed over time.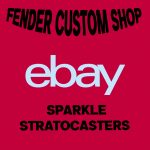 The sub-base coat is gold pearl which can be seen shining through the around finish wear. Then purple pearl lacquer on top of the gold. The final metal flake coats were Blakes"Lavander". Blake pearls and paints are the essence of 50's-60's cool vintage vibe. This faded vintage lavander just pops!
Guitarwacky's Shirts-Phone Cases and Popsockets now on Amazon</font color>
This beauty is powered by killer sounding Seymour Duncan tele stack pickups. Get punch and clarity, easily convertible to twang when you want or ripping high gain stuff if you prefer.
Aged vintage tuners and slinky 09's; she's ready to go! Saddles, screws and hardware were aged and sealed, so that they will look tomorrow, the way they look today for years to come.Don't forget to checkout our other affordable relics, then follow us to be notified when guitars are listed;Google us! Also check our recent relic sales feedback w/links included below.Checkout our other affordable relics at Guitarwacky's Reverb Shop-click here then:
to be notified when our affordable relics are listed; also Google us!