Guitarwacky Custom Relic Finishes ages-the finest affordable American Fender Relic Stratocasters and Telecasters on the market-typically under $1500.
Don't forget to checkout our affordable relics in our reverb Store.
Custom heavily aged Relic Tele loaded with Fender's 52′ Original Vintage Pickups. Totally custom authentically aged nitro lacquer finish makes this a beautiful one-off Telecaster. This heavy relic has wear and finish checking in all the right places. All urethane removed; this alder body has blue metal flake with several Nitro lacquer clear coats which pops under different lighting.. Custom aged pick guard completes this incredible guitar.
Aged maple rolled neck and fret-board newly leveled and polished jumbo frets. Intonation set; neck radius set 9.5in. modern "C". All sticky thick satin neck finish removed from front and back then lacquered for a speedy responsive smooth surface.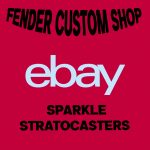 Greasebucket Tone Circuit (rolls off high without adding bass). Aged vintage tuners and slinky 09's; she's ready to go! Saddles, screws and hardware were aged and sealed, so that they will look tomorrow,the way they look today for years to come.
Guitarwacky's Shirts-Phone Cases and Popsockets now on Amazon</font color>
Tons of lacquer finish checking; Guitarwacky's proprietary finish process involves several coats of HVLP nitro lacquer, the finish is totally hand sanded, rubbed and timeworn to perfection. This guitar's finish was artfully aged and is soft and smooth to the touch.
Don't forget to checkout our other affordable relics, then follow us to be notified when guitars are listed;Google us! Also check our recent relic sales feedback w/links included below.Checkout our other affordable relics at Guitarwacky's Reverb Shop-click here then:
to be notified when our affordable relics are listed; also Google us!