Guitarwacky Custom Relic Finishes ages-the finest affordable American Fender Relic Stratocasters and Telecasters on the market-typically under $1500.
Don't forget to checkout all our affordable relics in our reverb Store.
7lb 6oz American Fender Stratocaster Standard Custom Relic Green Sparkle. This stunningly aged nitro lacquer finish was professionally aged to perfection. The base coat was lime candy pearl lacquer. The flake coats were Custom Lil Daddy Roth Trippin Finkster Green top coated with several coats of clear nitro lacquer.
Next, the body received the ultimate Guitarwacky proprietary pigment age treatment including vintage shattered glass finish checking crosshatching web checking. That's finish checking on two layers of lacquer. This process defines vintage instruments but very time consuming.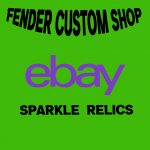 The finish product is authentic and gorgeous; see for yourself. Don't forget to checkout our other affordable relics, then follow us to be notified when guitars are listed;Google us! Also check our recent relic sales feedback w/links included below.Checkout our other affordable relics at Guitarwacky's Reverb Shop-click here then:
to be notified when our affordable relics are listed; also Google us! We use the highest quality HVLP nitro lacquers, tints, flakes and candy pearls. No expense in quality or time is spared to get that custom shop look, feel and sound without breaking the bank. Make Guitarwacky's Custom Relics your "affordable" alternative.
Guitarwacky aged pick guard completes this incredible guitar with another aged rear trem cover (not shown) included. Frets dressed and polished and the guitar will arrive freshly setup and ready to play. This strat is powered by original American Standard pickups. The body, pickups and hardware are original to a 2008 American Standard and the neck is from a 2013 American Standard. All sticky thick satin neck finish removed from back for a speedy smooth surface. Aged vintage tuners and slinky 09's; she's ready to go! Saddles, screws and hardware were aged and sealed, so that they will look tomorrow, the way they look today for years to come.
Guitarwacky's Shirts-Phone Cases and Popsockets now on Amazon</font color>
Fender American Stratocaster Magenta Sparkle Heavy Relic Custom Shop Texas Specials
Alex D. – Jan 29th, 2020
Fantastic guitar! Very pleasantly surprised how smooth the relic job feels. Plays and sounds like a dream with the custom shop pickups. I set the guitar up for half-step down tuning with the 9's strings it shipped with and haven't had any tuning or intonation issues whatsoever! Would definitely consider purchasing from Bob again. Thanks!!