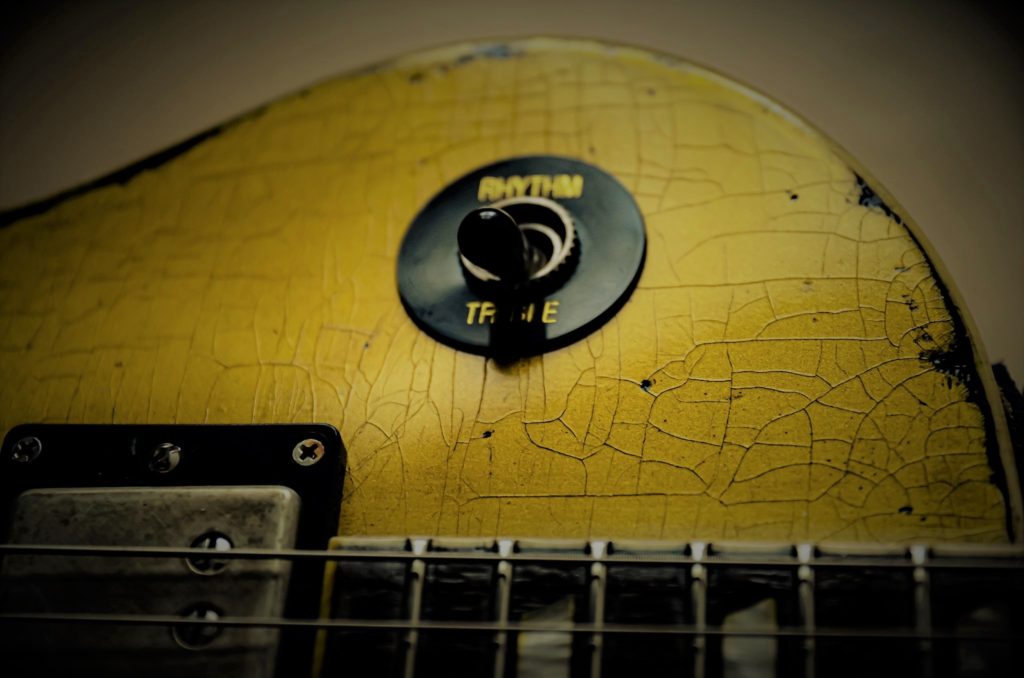 Make Guitarwacky's Custom Relics your "affordable" alternative. Guitarwacky Custom Relic Finishes produces the finest affordable aged Gibson Les Pauls- American Fender Relic Stratocasters- Telecasters-Jazzmasters and Jaguars on the market today. We stand by our work by offering a 3-day love it or leave it guarantee on all guitars sold. Details below:
to be notified when our affordable relics are listed; also Google us!
Pix gallery below!

Just completed: magnificent 9lb 5 oz-2019 Gibson Les Paul custom aged Goldtop by Guitarwacky Custom Finishes. This guitar started out life as a Gibson Les Paul Traditional Pro V model. Guitarwacky custom finish's are top quality, cutting-edge and proprietary. We use only nitrocellulose lacquer ("nitro") on our relics.
Nitro lacquer shimmering gold base coats followed by gold "House of Kolor" Nitro Kandy. Top coated with several clear coats of nitrocellulose lacquer. Aged and detailed by hand to perfection including stunning finish checking on front, sides, rear body and neck, plus headstock wear.
The finish product is "authentic in appearance and gorgeous"; see for yourself.  Don't forget to checkout our other affordable and past relics, then follow us to be notified when guitars are listed; Google us! Also check our recent relic sales feedback w/links included below.
This stunning aged Les Paul plays and sounds amazing! Neck bindings rolled for comfort, frets detailed and polished; the guitar will arrive freshly setup and ready to play. This beauty is powered by the original (Guitarwacky aged) Gibson overwound Tradbucker pickups and has a comfortable "C"-shaped neck. Slinky 09.s; she's ready to go!
Unbelievable sound and versatility with the passive HP-4 High Performance Circuit which provides a number of ways to configure the pickups via push-pull pots as follows:
• Pulling the neck-pickup volume knob either splits or taps the coils
• Pulling the bridge-pickup volume knob either splits or taps the coils
• Pulling the neck-pickup tone knob selects the out-of-phase setting
• Pulling the bridge-pickup tone knob up selects the pickups' outer coils.

Understanding the significance of quality, Guitarwacky Custom relics are "flawlessly detailed" by artisans whose love for guitar can only be measured by the level of detail embodied within their relic art. This Les Paul arrives in original Gibson hard case case pictured.
Shipping! No worries here! We loosen string tension then professionally pack using brand new guitar boxes. Don't worry-No packing peanuts.
Guaranteed to love your guitar or just send it back within three days for a full refund(minus delivery shipping).
Recent client feedback with guitar links; check them out!:
Gibson Les Paul Custom Heavy Relic Red Sparkle (Classic)
March 05, 2022 by Lou's Gear Depot
Gibson Les Paul Heavy Relic (Traditional)Custom Aged Vintage Flamed Heritage Cherry
Amazing guitar. Wow. Exactly what I wanted. Sounds incredible. Looks amazing. The relic job is just fantastic. Plays great. Thank you. Now I'm wanting start saving for your next creation lol. Tony.
March 04, 2022 by Anthony C.
American Fender Stratocaster Relic Custom Pink Magenta Sparkle Colorshift!
It's an amazing guitar…. Thank you!
September 09, 2021 by Dogtown
American Fender Jaguar Relic Custom Purple Sparkle
Wow what a cool thing you have created there! Really a spectacular finish color and technique, love the feel of the neck and the electronics and hardware all work perfectly and look to have been on this particular guitar un-disturbed for decades. Quick shipping, friendly messaging and well packed with a great fitted fender guitar case. Really impressed in every respect – thanks Robert!
August 31, 2021 by Dan
American Fender Telecaster Custom Heavy Relic Pink Gold Sparkle Colorshift!
This guitar is fantastic! It was so well relic'd and the setup done to it is stellar. Thanks so much!
August 20, 2021 by Michael's Boutique