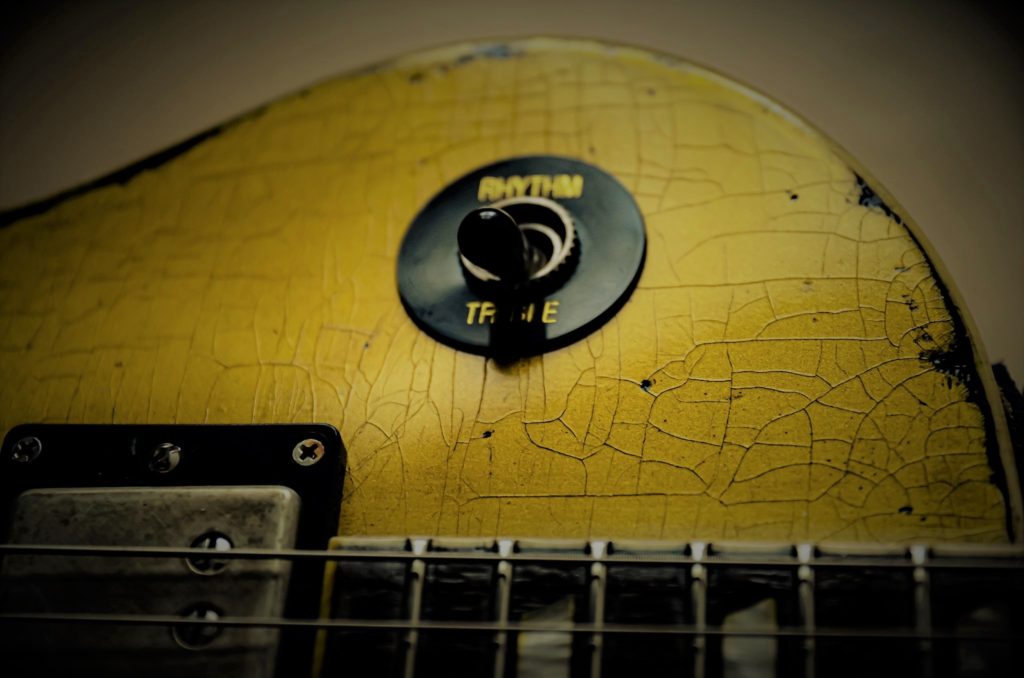 Guitarwacky Custom Relic Finishes ages-the finest affordable American Fender Relic Stratocasters and Telecasters on the market today-with the exception of metal flake finishes; typically around $1500.
If you ar looking for that nasty to hell and back feel then this one is for you. The level of detail is unmatched. Just completed: stunningly detailed 7lb 8 oz- 2011 American Fender Standard Stratocaster Custom Heavy Relic in black. This nitrocellulose lacquer finish was professionally and artfully aged by hand. Aged headstock and neck make this incredible heavy relic a head turner.   Guitarwacky's all-time favorite influence is Master-builder Dale Wilson. "MUST"check out his work!
Guitarwacky aged pick guard and plastics completes this incredible guitar. Frets leveled and polished and the guitar will arrive freshly setup and ready to play. This beauty is powered by a set of Fender original standard pickups.
"Modern C"-shaped neck with 9.5"-radius fingerboard with rolled edges and age tinted dots. Aged vintage tuners and Slinky 09.s; she's ready to go! Saddles, screws and hardware were aged and sealed, so that they will look tomorrow, the way they look today for years to come.
to be notified when our affordable relics are listed; also Google us!
Understanding the significance of quality, Guitarwacky Custom relics are flawlessly detailed by artisans whose love for guitar can only be measured by the level of detail embodied within their relic art. This strat arrives in the original Fender ABS case pictured.
Shipping! No worries here! We loosen string tension then professionally pack using brand new guitar boxes. Don't worry-No packing peanuts.
Keep scrolling down for picture gallery
Guaranteed to love your guitar or just send it back within three days for a full refund(minus delivery shipping).
Recent client feedback with guitar links; check them out!:
American Fender Jazzmaster Limited Edition Custom Heavy Relic Nitro Purple Sparkle
Absolutely beautiful. Impeccable craftsmanship. Truly a work of art. Thanks so much!!!May 08, 2021 by Donald
American Fender Stratocaster Relic Custom Gold Sparkle HSS Texas Specials Lucy F. – Apr 1st, 2021
I have wanted a relic guitar for a while. The prices for most are insane. I saw this one, and I will admit I was skeptical. I don't like gold guitars (I have had a few), but I decided to chance it, and I am glad I did! The attention to detail on this is incredible. The maple fretboard is beautiful. Someone put a lot of work into this, and the price was great. And the gold? In person, it looks AMAZING. Sort of like gold foil. I have named this guitar "GOLDDUST".Fender Custom Stratocaster Heavy Relic Lime Green Sparkle CS Texas Specials David L. – Mar 6th, 2021
Just GREAT Thank you
American Fender Stratocaster Custom Pink Sparkle
Adam H. – Feb 25th, 2021
This guitar is amazing! The attention to detail on the relic job is incredible, and the finish itself is amazing. The guitar shipped quickly and arrived two days after I ordered it. Right out of the box it was well set up and it played beautifully!American Fender Telecaster Custom Heavy Relic Gold Sparkle TX Specials
Incredible piece. Great detail, killer looks, amazing feel, the set up is awesome, very nice playability. Tremendous value for a solid American Telecaster that has insane mojo. Well done sir!! Highly recommended!! A+++++
January 27, 2021 by Bret's Guitars
American Fender Stratocaster Custom Relic Purple Sparkle CS Fat 50's
I love this purple guitar!! So amazing!!January 25, 2021 by My_Fender_Addiction
American Fender Jazzmaster Relic Custom Nitro Gold Sparkle G&G Case Kyle K. – Jan 11th, 2021
Fender Mustang American Relic Custom 2013 Purple Sparkle HH
Super responsive and awesome quality guitar for the money- I will buy more from him!
December 01, 2020 by John Smith
American Custom Fender Telecaster Relic Pink Sparkle CS Texas Specials Tommi M. – Nov 27th, 2020
Absolutely perfect. Thanks for the killer work!!!American Stand Fender Stratocaster Custom Heavy Relic Sunburst CS Fat 50's Andrew M. – Oct 15th, 2020
Pleasure to deal with. Great communication. Absolutely love the guitar!
American Fender Stratocaster Custom Heavy Relic Lime Green Sparkle "Duncan Antiquities" Mario V. – Oct 13th, 2020
Super quick ship! Just as described!
American Fender Telecaster Custom Heavy Relic Green Sparkle
Plays like a dream. Sounds like a bird. Stunning. Better in person. Second purchase…probably not my last. Thanks for the work of art. Jason R. – Aug 13th, 2020
American Fender Stratocaster Custom 2012 Faded Tangerine Sparkle
Stunning! The relic finish is nothing short of perfect. I've had relics from Nash and MJT and this is the most realistic out of them all. The colors and attention to detail are amazing! If you're into standard Fender American Strats but want a relic job that will stand out (in a good way!) this is the place to go. Super fast shipping, will buy from again!                                                                            Peter T. – Aug 12th, 2020
American Fender Custom Stratocaster Relic Nitro Faded Pink Sparkle
Stunning! More beautiful in person. This guitar sings like a bird! Will not be my last purchase.                                                         Jason R. – Aug 13th, 2020
American Fender Custom Telecaster Standard Relic Blue Sparkle 
Just received a beautiful functional piece of art. The pictures don't even tell the whole story. Wait till you see one of these in person! In a dim lit room it looks like a vintage tele with a old school paint job which is a look I love. Once light hits the body the sparkle is revealed in all it's glory! Oh man what a sight! So depending on the angle you get a different visual delight. Bob was quick to respond to my questions and told me I would love it and he was right!         Glenn P. – Aug 4th, 2020
Fender Telecaster American Performer Relic 2019 Lavander Purple Sparkle Duncan Tele Stack
The finish work on this guitar is absolutely outstanding! Truly a unique, well-done refinish and relic. I would wager if I put this next to my CS Tele, many people would have difficulty telling them apart                                                                                        Edward B.-July 11, 2020
Fender Stratocaster Custom Blue Sparkle Custom Nitro Relic
Wow! This is a work of art! I'm incredibly impressed. I finished the neck w/2500 sand block, and will swap out the american standard w/custom shop Abigail Ybarra hand wound set to complete it. But that's just me being incredibly picky. This is everything advertised and more! Congrats on your craftsmanship! Bravo!                     July 09, 2020 by Sam M.
Fender Stratocaster Relic Nitro Green Sparkle Custom Shop Fat 50's
Thanks again, looks great                                                                     June 28, 2020 by Adam R.
American Fender Stratocaster Relic Custom Nitro Pink Sparkle HSS CS Texas Specials
Great guitar . Sounds great, plays great , looks amazing and unique . Seller was quick and helpful with answers and shipped fast. Would buy again from him.                                                                           Chris S. – Jun 21st, 2020